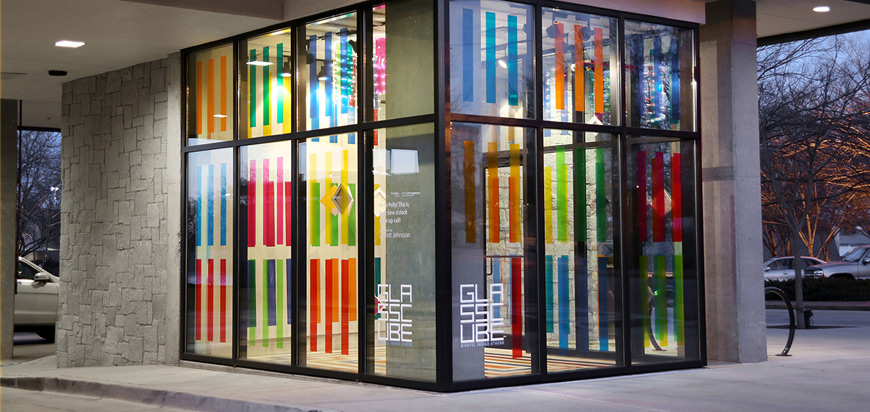 Art Gallery at Hotel Indigo Athens
The Gallery@HotelIndigo Athens is an exhibition space for visitors and locals to experience quality regional art spanning all mediums. The Gallery@HotelIndigo Athens consistently curates the works exhibited in the space, rotating them quarterly to encourage a deeper appreciation of contemporary art in Athens and northeast Georgia.
Likewise, the Glass Cube@HotelIndigo Athens is a freestanding outdoor exhibition space featuring visually engaging and experimental works just outside the hotel's main entrance. Together these exhibit spaces bring art and the community together for enjoyment and discovery.
TINY UNIVERSE #3
February 6 – May 30, 2020
Artist Reception: Thursday February 6, 6:30 – 8:30 pm
(ATHENS) The third in a series, the TINY UNIVERSE #3 exhibit is a small works show by 70 plus Athens and Atlanta based artists, most whom have previously exhibited at the Gallery@Hotel-Indigo over the years. TINY UNIVERSE #3 represents a fraction of the great talent in our area from printmaking to painting, sculpture to jewelry making. Artists were instructed to keep the scale of their works under 64 square inches, because after all, the best things come in small packages!
Join us for the opening reception of TINY UNIVERSE on Thursday, February 6 from 6:30 – 8:30 pm. The opening reception will feature hors d'oeuvres, selections from the bar and an opportunity to meet fellow Athens' art enthusiasts.
Gallery & GlassCube@Hotel Indigo-Athens are proud members of 3Thurs.org.
For more information please contact Didi Dunphy, Curator, galleryhotelindigoathens@gmail.com