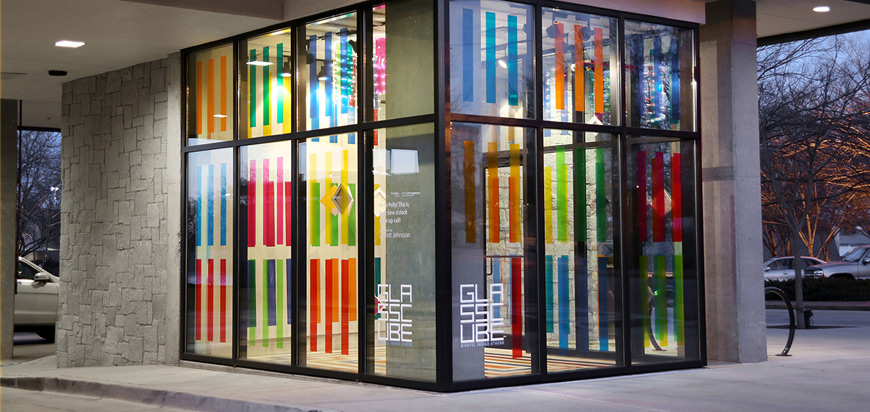 Art Gallery at Hotel Indigo Athens
The Gallery@HotelIndigo Athens is an exhibition space for visitors and locals to experience quality regional art spanning all mediums. The Gallery@HotelIndigo Athens consistently curates the works exhibited in the space, rotating them quarterly to encourage a deeper appreciation of contemporary art in Athens and northeast Georgia.
Likewise, the Glass Cube@HotelIndigo Athens is a freestanding outdoor exhibition space featuring visually engaging and experimental works just outside the hotel's main entrance. Together these exhibit spaces bring art and the community together for enjoyment and discovery.
Supple Moments, Dark Corners
A new installation by
Elinor Saragoussi
Artist reception: Wednesday, November 20, 6:00 pm
On view from November 2019 – April 2020
(ATHENS) The GlassCube, located on the corner of Hotel Indigo-Athens property, is Athens only art exhibition gallery viewable 24 hours, 7 days a week from the street, in your car, riding by on your bike or strolling along the sidewalk. This installation space features a commissioned site-specific work every 6 months, and is accompanied by a residency honorarium.
The new installation, Supple Moments, Dark Corners, by Eli Saragoussi, is a peek into the tender parts of the artists' brain. Often it is an agile, colorful, playful space, but at times, the lights turn off and the spooks come out. This installation combines set design, illustration, sound, movement and lighting to create a uniquely whimsical world.
Accompanying the installation is a unique musical Soundscape work by Max Boyd entitled Jungle Drone. This will be accessible via a QR code.
Elinor Saragoussi is from Denver, Colorado and currently based in Athens, GA. She works with a variety of mediums, including felt, cardboard and illustrations, which are all, utilized to create fantastical, colorful work. Elinor has a biology degree from the University of Colorado, and is also a musician who sings and plays bass in her band Baby Tony and The Teenies.
"In my work, I imbue soft, child-like forms and characters with melancholy undertones. On the surface, I intend for my work to appear playful and accessible. When viewed as a collection however, patterns emerge that reveal a darker conversation around apathy and the struggle to connect with oneself and others." – Eli Saragoussi
Athenians will recognize her unique style as she was just featured on the cover of Flagpole with a drawing of Porch Fest. In addition she crated the Flagpole music award trophies for the 2019 ceremony. Eli and Max are musicians featured in the band Baby Tony and the Teenies.
Please join us for the artist reception on Thursday, November 14 at 6:00 pm.
Gallery & GlassCube@Hotel Indigo-Athens are proud members of 3Thurs.org.
For more information please contact Didi Dunphy, Curator, galleryhotelindigoathens@gmail.com