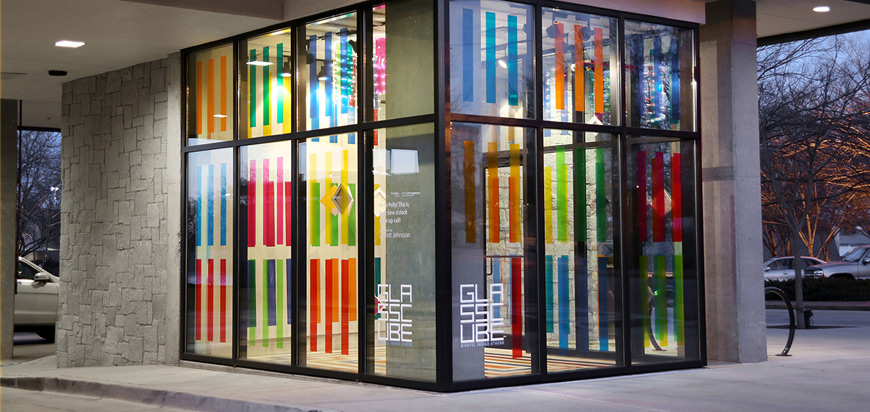 Gallery@HotelIndigo Athens
The Gallery@HotelIndigo Athens is an exhibition space for visitors and locals to experience quality regional art spanning all mediums. The Gallery@HotelIndigo Athens consistently curates the works exhibited in the space, rotating them quarterly to encourage a deeper appreciation of contemporary art in Athens and northeast Georgia.
Likewise, the Glass Cube@HotelIndigo Athens is a freestanding outdoor exhibition space featuring visually engaging and experimental works just outside the hotel's main entrance. Together these exhibit spaces bring art and the community together for enjoyment and discovery.
Solar System
(dad, you came to earth a long time ago)
A new installation by Trevor Reese
On view now, available for viewing 24/7
(ATHENS) The GlassCube, located on the corner of Hotel Indigo-Athens property, is Athens only art exhibition gallery viewable 24 hours, 7 days a week from the street, in your car, riding by on your bike or strolling along the sidewalk. This installation space features a commissioned site-specific work every 6 months, and is accompanied by a residency honorarium.
Solar System (dad, you came to earth a long time ago), a work by artist Trevor Reese is the newest in the GlassCube series. Known for his room-filling sculptural works, Reese has turned the GlassCube into a hospitality suite of miscellaneous furnishings ready to take off into outer limits. Conventional objects, ladders, chairs, stools, tables, stacked in an orderly fashion, each have their own personal multi colored stylish disco ball. A hodge-podge of mirrors, mined from friends basements and collected from thrift stores, reflect the environment day and night. Working within a practice of exposing what is usually hidden, Reese's installation is as if you have opening your storage shed and found a space age dance party.
Trevor Reese (b. 1979 Augusta, GA) lives and works in Savannah, GA. His recent solo exhibitions include Buster Keaton at Sardine Gallery in Brooklyn, NY and Day & Night Projects in Atlanta. Reese completed his MFA at Georgia State University in Atlanta as a recipient of The Dean's Fellowship. His work has also been included at PS122 (NY), Mixed Greens Gallery (NY), Delaware Center for Contemporary Art (DE), Athens Institute for Contemporary Art (GA), The Contemporary Art Museum St. Louis (MI), among others. He is currently working towards shows in Atlanta at Chastain Arts Center, Garage Projects, Swan Coach House and the Zuckerman Museum of Art in Kennesaw.
Gallery & GlassCube@Hotel Indigo-Athens are proud members of 3Thurs.org.